RS –2476— Miki Succulent & Rose Bouquet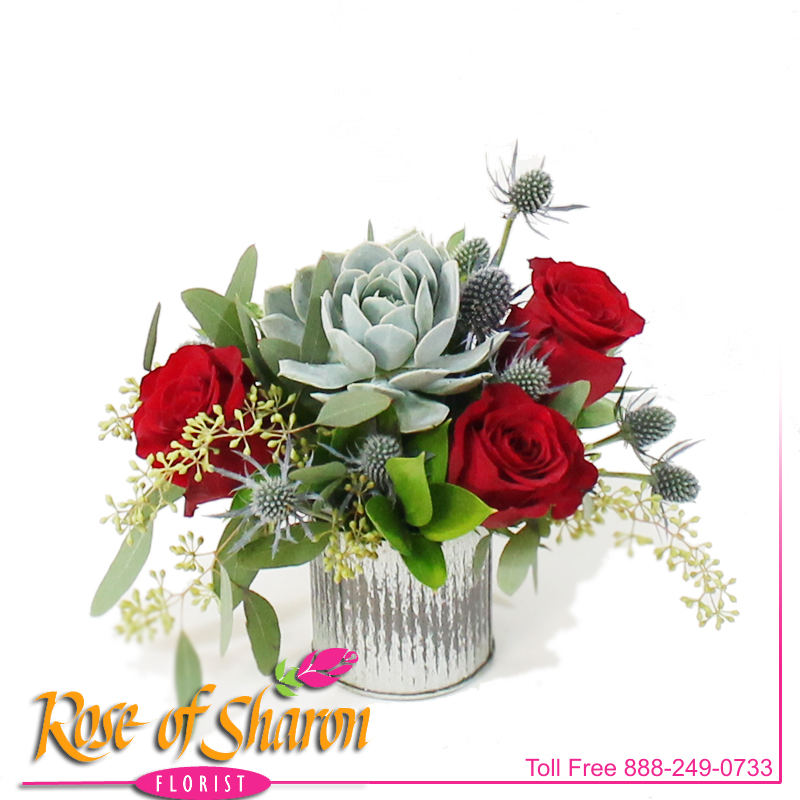 © 2015 Rose of Sharon Florist
This design is available. However the Container is Out of Stock and Substitutions are Required. You may order the design and our team will choose an appropriate substitute while maintaining the overall look and integrity of the design.
Est. Total includes Delivery & Sales Tax
Signature Design Not Available Outside Local Market
Visit Product Page for Additional Information
Greeting Card
Your order will include a Florist Counter Card. Toggle the switch above to select a beautiful, full-size greeting card for a small additional charge. $5.

*Limit 200 Characters
Miki means small. This small arrangement of crimson roses, Sea Holly and succulent is finished with denuded eucalyptus and arranged in a chic, retro, corrugated, zinc container.
Please Notice. One or more items or components needed to create this recipe are out of stock or not available. By continuing to order, you acknowledge we will need to substitute components to create your gift. We always try to create the same Look and Feel of the original design and maintain or exceed the value. Trust our design team to create your gift with great care.

I understand components needed to create this design are not available and have approved florist use recommended alternate.
Delivery Date is
Here is how we protect clients, recipients and employees During Pandemic
By placing an order on our site you are agreeing to our Site Terms of Use
Recipient's Telephone is Required
Delivery will be No-Contact
I have reviewed the Greeting Card Message for accuracy.