Gift-Upgrades-Fragrance Catalog
Item# 997001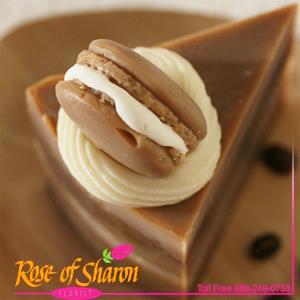 Chocolate Macaron Cake Slice
$15.00
This clever Chocolate Macaron Soap Cake is a luxuriously fragrant and tantilizingly detailed gift of organic soap. Each 5.7 ounce slice is individually packaged. Buy 8 slices to creat a whole cake. Ingredients: Avocado Oil, Castor Oil, Mica, Organic Coconut Oil, Organic Olive Oil, Organic Shea Butter, Organic Soy Bean Milk, Organic Sustainable Palm Oil, Rice Barn Oil, Sweet Almond Oil, Water, Cocoa Powder. Scent: Coffee - Not Edible.
More Information!
Item# 997002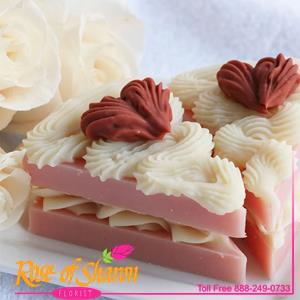 Rose Scented Cake Slice
$15.00
Rose Scented Cake Slice Ingredients: avocado oil, organic coconut oil, organic olive oil, organic palm oil, organic shea butter, organic soy bean milk, sweet almond oil, water, mica powder. Scent: baby rose. - Weight 4.5 oz. - Individually Wrapped - Not Edible
More Information!
Rose of Sharon Florist would be pleased to deliver any item from our Gift-Upgrades-Fragrance Collection or any of our over 2500 items from our catalog to your loved one, business associate or friend in any of the following Zip Codes 93454 93455 93458 93420 93433 93401 93405 93427 or Santa Maria, Nipomo, Guadalupe, Arroyo Grande, Grover Beach, Pismo Beach, Lompoc and surrounding areas. via our own trucks. Call us at 805-925-3803 or 888-249-0733 for assistance or place your order online.